LEARN (Intelligence Platform)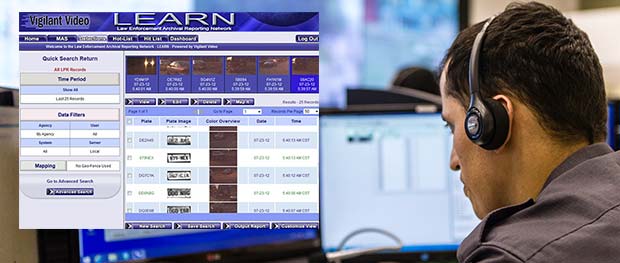 LEARNTM is Vigilant Solutions' intelligence platform. A hosted solution for law enforcement, the LEARN solution eliminates specific IT requirements within the agency and provides almost infinite scalability and data security.
LEARN transforms disparate sets of data into actionable intelligence. Data such as Fixed LPR, Mobile LPR, as well as Vigilant's own network of private LPR data are merged together with powerful analytics and condensed into meaningful and visual intelligence – intelligence that will protect officers, families, and communities, and ultimately save lives.
The System provides a license plate recognition (LPR) management and analytic platform of unmatched capabilities. LEARN provides agencies with an easy way to manage users and vehicle hotlists, query historical license plate reader (LPR) data and used advanced analytics for enhanced investigations. Because LEARN is a hosted solution, data sharing and interoperability with other law enforcement agencies is inherently simplified.
Special Features within LEARN include the Target Alert Service, providing agencies with alerting capabilities from LEARN to almost any device. Seamless connection to the data from Vigilant's National Vehicle Location Service (NVLS) expands an agency's available LPR data to include the nation's largest LPR data set to increase the number of investigative leads. The Mapping Alert Service uses data from the NVLS and matches against agency hotlists to provide agencies with additional LPR hits.
Exclusive Analytics such as Stakeout allow for previously unimaginable insights from license plate recognition (LPR) data into potential suspects and witnesses in pattern crimes. Locate Analysis presents a new way to look at historical data to provide actionable intelligence on the most likely and least likely location(s) to locate your suspect vehicle. Standard reports and dashboards provide easy visibility on usage statistics, system health, and results; schedule automated reports for command staff and LPR program managers.