License Plate Recognition
ALPR
Automatic License Plate Recognition Solution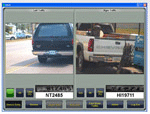 Enhance your officers' safety and productivity while maximizing your department's revenue. Automatic License Plate Recognition (ALPR) delivers the ability to read vehicle license plates and check them against an installed database for rapid identity verification. The system has been used to locate stolen or wanted vehicles and identify parking-ticket scofflaws.
This rapidly deployable, scalable solution uses rugged infrared cameras that connect to leading-edge optical character recognition (OCR) technology software, allowing you to conduct surveillance under varied lighting and weather conditions. Captured information is immediately processed, and you are alerted only when a "hit" occurs.
Automatic License Plate Recognition Solution

Vigilant Solutions
Vigilant Solutions creates highly innovative and essential tools for law enforcement – tools that ultimately saves lives. As an example, Vigilant Solutions' Automated License Plate Recognition (ALPR / LPR) product is the most comprehensive offering available, with over tens of thousands of users around the world and thousands of success stories. Data is cumbersome; intelligence is actionable. Vigilant Solutions' products are designed to collect, organize and share data to credentialed law enforcement personnel, providing intelligence that is readily accessible and easy to use. This intelligence provides more efficient and effective law enforcement while enhancing officer safety. Vigilant Solutions creates intelligence by merging previously disparate data sets such as fixed and mobile license plate recognition, privately collected LPR data, facial recognition, and more. Vigilant's LEARN Intelligence Network provides an easy to use and intuitive interface to all of this information for unmatched investigative capability in a secure, hosted environment to reduce demands on agency IT resources and to facilitate nationwide interoperability and data sharing. Whatever your intelligence need, Vigilant Solutions is the answer. A trusted provider to tens of thousands of law enforcement professionals, Vigilant Solutions is committed to helping you protect officers, families and communities.
Learn more about Vigilant Solutions